Riverside LED Signs
VIEW GALLERY
Do you want your business to remain visible at any given time or weather? Do you want a sign that can make your business interesting even if people see your signs from a distance? If your answer is yes to both these questions, then Alltime Sign & Design has the solution for you: our personalized Riverside LED signs!
LED signs can level up your business signs game by enabling your sign to be seen at any given time with the help of either LED bulbs or displays. It can be installed both indoors and outdoor, and any type of business can benefit from its use without worrying about spending a lot while using it.
Whichever LED sign type you pick, our Riverside, CT sign company has the tools and team ready to make them happen and get them installed. We will design it based on your brand, business goals, target market, and location, ensuring that it works as you intended. Simply let Alltime Sign & Design know what you are looking for, and it will help us create your dream sign for your business.
Call Alltime Sign & Design at (860) 847-7397 for your Free Consultation with a Riverside LED Sign expert!
Indoor LED Signs
Contrary to popular belief, LED signs also work perfectly indoors, especially in improving the workflow and customer experience in the office or store. It is also ideal to use LED signs as a wayfinding sign, for indoor advertising, or simply to help entertain guests with an interactive display.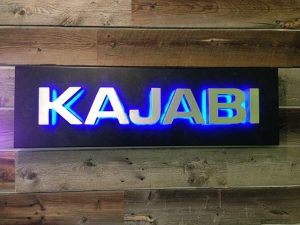 There are several types of LED used for indoor signs: LED tubes, LED displays, and LED-illuminated signs. For the first one, LED tubes are often used for simple wayfinding signs, such as the entrance/exit points or the key areas of the facility, such as take-out areas, cashiers, and others. These tubes can be bent to match the shape of the text or image you want to show, and you don't have to worry about them becoming a hazard because these lights do not overheat or produce heat at all, even if they are turned on.
Meanwhile, LED displays and LED-illuminated traditional signs utilize either LED screens or LED tubes to make them vibrant to use. Regardless of which option you pick, they are cheaper to use and maintain compared to traditional lights.
Programmable LED Message Centers
If you don't want to constantly change your display whenever there is an event or a new offering in your business, why not invest in programmable LED message centers?
This specific type of LED sign uses LED displays which can be programmed through a computer and display any kind of content you want to show. May it be pictures, videos, or text, it can be displayed together, either in color or black and white. You can even add music to make the display truly interactive and eye-catching. Since you can update it at any time, you will save up on costs for new signs.
For these Riverside LED signs, we can do either standalone LED message centers or install an additional LED message center for your current outdoor sign, such as in pole signs or monument signs. We can tailor its body to match a specific shape or size, as well as what color the display will feature. You can also get your content programmed to the display by one of our team members, and we'll teach you how to update it once it is back on.
Since LED message centers can be huge, we do make sure that the electrical lines are wired properly to remove any hazards for you and those who see them. We will also file the necessary permits to get it installed without violating any sign laws in your area.
Full-Service Lighted Sign Company
Whether you like it to display only text or show videos, photos, and text at the same time, Alltime Sign & Design is ready to handle every aspect of your LED sign's creation, from its design, and manufacturing to installation.
We assure you that everything will be handled by our talented team, and the materials that we will use are of the highest quality, passing the strictest quality controls and environment safety standards. Each part of the sign's design is also meticulously checked with the client, and when it is approved, the finished sign and its various parts will be checked for any problems before it is installed in your chosen location.
Our team is always ready to help you get truly personalized Riverside LED signs wherever you plan to use them. We will meet your deadline and budget, guaranteeing that you can use it immediately to achieve your business goals.
Free LED Sign Consultation
When it comes to visibility and uniqueness, LED signs can definitely change the game regardless of your industry and business size. Not only will it allow you to be flexible in the way you present your brand and offerings, but it will also make it easier for you to catch the attention of your target audience, even from a distance or while they are enjoying your offerings.
Ready to get your own branded LED signs for your business? Contact Alltime Sign & Design today, and we will show you why it is the ideal investment to make for your business goals.
Call Alltime Sign & Design at (860) 847-7397 for your Free Consultation with a Riverside LED Sign expert!